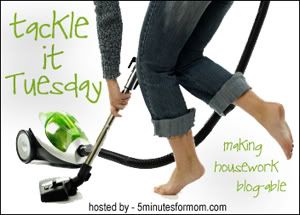 What am I tackling this week? I volunteered to host an Easter Egg Hunt for the Mommy Co-op that I belong to and it is this Saturday! This means I can no longer avoid cleaning the house. I always tell myself to get on some type of schedule but I never stick to it. I always wait until the very last minute and then stress!
I always start with the kitchen.... Here is our island!! Every week, or is it every day that I say I will not let it get this bad. I had 30 minutes to throw something in the crockpot AND give the kitchen a transfomation before we had to head out. Good thing Bella was in the mood for a popsicle, she willingly went outside to play, she even asked me to close the door so flies don't come in to the house!!!
Before and after pictures:
I even had time to put up some Easter decorations without spending any money. I bought a few things after Easter last year and managed to find every stuffed bunny that Bella owns to decorate. She had a blast!
And now onto dusting, vacuuming, mopping and everything else! Oh it's going to be busy week!