It's been over a month since my last post!!!
I am joining a new Friday Follow this week!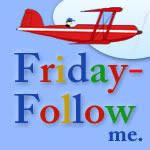 Thank you for visiting!
I survived the big move and we are starting to settle in. It's been a tough transition but we are adjusting. We are renting a house in Northern California, in a small town called Petaluma.
We are about 45 minutes from San Francisco. We have already been able to explore the city and take Jelly Belly to many FUN spots. There is so much to do! I am loving the weather and for the first time in my life, I do not have a job!! Scary but exciting, isn't that what I have always wanted? To stay home with my Jelly Belly full time? The adventure is only beginning!
Moving to a new state has been quite the experience. We are faced with new surroundings and a lot of change. One of my biggest challenges is adapting to the size of home. We lost about 1000 square feet, so a BIG change but a lot less cleaning (I hope).
Even though, we had 2 garage sales and have taken many, many trips to Goodwill, we still have too much stuff!!
Since my foot is still hurting and I am taking it easy on the driving, I am considering some online shopping.
I am mostly struggling with our bedroom and our bathroom. So much that I arrived here on July 1 and I am barely starting to go in there and see what I can do!
Our bathroom does not even have any towel racks! The little things I took for granted.
Luckily, we do have a B
athroom Spacesaver.
I am using a few wicker baskets that look nice and are great for storage. Funny how they were empty at the old house but have been put to good use in our new bathroom. Since I have gotten rid of a lot of stuff I need to purchase new bathroom accesories. I
I will be posting pics of Jelly Belly's new room soon. I was able to keep her
old bedroom theme
so I am very excited to share it with you.
I hope you visit again!